A common reason most people don't adopt woodworking as a hobby is that they are living in an apartment. The perception of woodworking is that it requires a garage or a lawn. However, the fact is that you don't need a large workspace for woodworking. 
You can set up a small woodworking shop even in an apartment. All it takes is a little bit of preparation and planning. Thousands of woodworkers craft pieces of wood art in small shops.
Woodworking when you live in an apartment requires buying the right tools and equipment. In this blog post, you will learn about some tips for setting up a workspace in an apartment. 
If you are also new to woodworking, you will find this guide invaluable in your trek to become a woodworking expert.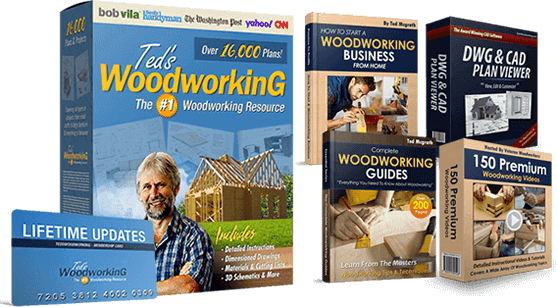 How to Set Up a Woodworking Shop in Your Apartment?
You can turn your passion into a means of earning a livelihood from your own apartment.  You need to plan your woodworking space carefully. 
1. Plan the Workspace
The first thing that you need to consider is the space in your apartment that you want to designate for woodworking and also consider how dry the wood needs to be. 
If you have a spare room, you can turn it into your woodshop. Some people also set up a woodshop in the balconies, living rooms, and even spare bathrooms. You can also consider setting up the woodshop in your bedroom. 
In case you will be working on small projects, such as candle holders or dustbin, you can work in the kitchen. Just place plywood on the kitchen table and you can start working. 
2. Soundproof the Place
You don't want to annoy your neighbors when working on your wood projects. Consider soundproofing the area so that you don't receive complaints from your neighbors for making a lot of noise. 
Soundproofing an apartment is not that difficult. You can buy soundproofing panels from your local hardware store. Hang the panels around the walls of the apartment room. The panels will absorb the sound made by power tools when you work on your project. 
You can also buy an insulation sheet board. Consider buying the thickest brand you can afford. When working on your woodworking projects, you should cover the walls, windows, and doors with the sheets. This is an expensive option, but it will provide the best sound insulation. 
3. Work on Small Wood Projects
You should work on small woodworking projects when you have limited space. Even if you have designated a large space for woodworking, getting large wood items out of the apartment will be difficult. 
Working on small projects is not necessarily bad. There are many small projects you can work on such as baby cribs, chairs, stools, candleholders, vases, and more. Selling these items in bulk will allow you to make a decent income. There is a great market for small wood items.
4. Dealing with Dust 
Woodworking results in a lot of dust that can be a nuisance for the family members. The dust can be particularly bothersome when woodworking in a small apartment. 
Power tools generally create a large volume of dust. So, don't use power tools if you want to avoid dust. But if this is not possible, you should consider buying a high-quality dust collector. 
Remember that prolonged exposure to dust can be harmful to health. Dust collectors will keep the air clean and free of dust. Consider buying a portable dust collector for your woodworking shop in your apartment. The portable dust collectors should have 5.7 amp motors that can collect at the rate of at least 650 CFM. Just make sure to replace the filters of the dust collector regularly. 
5. Buy Custom Boards 
Woodworking when you live in an apartment presents a difficulty when it comes to milling your lumber. You can't mill custom lumber in a limited space. An alternative to milling is to buy custom boards from the local store or an online platform. 
You can order custom-size wood boards and sheets. Your local lumberyard will cut the lumbar to the desired thickness usually for a small fee.  You can also buy lumbar boards and sheets online. Wood supply shops such as Woodcraft and Rockler sell pre-cut boards online.  
Another option is to order individual project packs or boards from wood suppliers such as Woodworkers Source. The company also offers custom board selection and cuts at a small fee. 
6. Buy the Right Tools
Selecting tools for woodworking when you live in an apartment also requires certain consideration. You need different tools for DIY projects in an apartment. Here is a list of tools that you should include in your buying list when woodworking in an apartment. 
Portable table saws (and possibly if you have the space hybrid table saws) are one of the most commonly used power tools for woodworking projects. Using a large 14-inch band saw in a small space is impractical. Consider buying a portable table saw tools when woodworking in an apartment. The table saw can easily fit in small apartment sizes. 
Circular saws are also important for power tools used in woodworking projects. The tool can be used to cut through different sizes of plywood, particleboard, melamine, and drywall. You can also use the tool to work on MDF and trims.  The tool will allow you to make the precise cuts required for woodworking projects. 
Miter saws are also important tools that you can use when woodworking is important. The tool can be used for angled crosscutting and straight cuts. You should buy 10'' or 12'' miter saws for small DIY woodworking projects in the apartments. 
Using track saws will give you great accuracy in cutting wood. You can make smoother and straighter cuts when using the tool. You only need to push forward and the tool will do the rest. Buying a tool is important when you are working in an apartment. 
Jigsaws are power woodworking tools that are basically used to cut wood. You can use the tool to cut any desired curves. You can also use to tool to cut stencils and bevels on wood.
The small size tool can easily be used for DIY projects inside an apartment. 
Drills are required for all types of projects. You can find different types of drills in the market. For woodworking in an apartment, you should consider buying a cordless drill. The cordless drills offer great convenience and speed when working on small woodworking projects. 
Cordless drills run on rechargeable batteries. The tool comes with a charger with which you can recharge the batteries once finished working.   
Rotary tools are used to cut, grind and sand woods. You can use the tool to make precise and detailed cuts. The tool is perfect for different types of woodworking projects in an apartment. 
You can't have work stand in a small apartment. The alternative to work stand is an adjustable portable workbench. You can place all your tools on the portable workbench. This will avoid clutter and result in an organized workspace. 
An oscillation tool is multi-purpose woodworking equipment that you can use for cutting, grinding, sanding, polishing, and scrapping. Consider buying a tool that comes with basic blades and accessories such as hard case and cloth tool bag. You can also purchase after-market blades as required later on. 
7. Put Laminate Flooring
Consider laying laminate flooring on the carpets. This will ensure that the carpets don't get dirty as you work on your woodworking projects. Make sure that you place panels or rubber mat below the laminate sheets. This will prevent the laminate floor from sliding over the carpet. 
Covering the carpet is particularly important if you want to work on metals such as aluminum. The metal shavings can get stuck into the carpeting. Removing the shavings from the carpet is difficult. 
8. Buy a Shop Vacuum Cleaner
Normal household vacuum cleaners are not suitable for cleaning wood chips and sawdust. The filters of the vacuum cleaners can clog reducing the suction. 
For cleaning woodworking messes, you should consider buying a shop vacuum cleaner. These devices can easily clean dust and chips from the floor. They can hold a large amount of sawdust and wood chips. Consider purchasing one that comes with a washable filter and disposable bags. This will save you a great deal of hassle when cleaning the woodworking mess in your apartment. 
The video below recaps some of the tips regarding woodworking when you live in an apartment. 
Conclusion 
Woodworking is possible in an apartment. All you need to do is to select the right tools (including the right clamps for DIY wood projects. You should consider using hand tools to minimize dust and noise. But using the power tools will result in greater accuracy and speed when working on woodworking projects. 
Consider buying books and be sure to learn how to price your work. You put in lots of time for each of your projects and deserve the right price! You can learn a lot from others regarding how to set up a woodworking shop in an apartment. You will be surprised at the variety of wood projects that you can work on in a small space.
Lastly and especially if you are also new to woodworking, you will find this Ted's Woodworking guide invaluable in your trek to become a woodworking expert. I have absolutely loved all the plans available and it has helped me so much and I am sure it will help you too.